Online Social Work Programs
Wildly Passionate. Exceptionally Prepared.
Request More Information
Complete this form and we'll get in touch with information about coursework, admissions, tuition, and more.
Note: All fields required.
BASW & MSW CSWE-ACCREDITED
Top 50 College of Social Work1
Social change. Social justice. Social work.
When you continue your education with the University of Kentucky's College of Social Work, you will join more than 80 years of proven excellence in social work education. Our social work programs include bachelor's, master's, and doctoral degrees in an online format, preparing you to make a positive impact on behalf of individuals, families, groups, organizations, and communities.
With UK's online degree programs in social work, you will learn from dedicated faculty who apply expertise across multiple social work areas. Build connections with your instructors and peers through courses offering the flexibility of online learning, backed by fieldwork opportunities that provide valuable hands-on experience. After graduation, you will possess the professional skills and network to pursue your passion as an advanced-practice social worker.
The University of Kentucky sets the bar for social work education. With a commitment to advancing your passion for positive social change, we empower you to join more than 6,000 social work graduates in careers that support the well-being of individuals, families, and communities worldwide.
Offering the highest social work licensing pass rates in Kentucky for first-time test takers
Ranked the #1 College of Social Work in Kentucky by College Factual2
Ranked the #1 Social Work Bachelor's Degree in the Southeast by College Factual2
Recipient of INSIGHT Into Diversity's 2021 Higher Education Excellence in Diversity (HEED) and Diversity Champion Awards3
Online Social Work Programs for Multiple Experience Levels
Discover the degree that enables you to move into the social work profession or advance into leadership roles. We offer Bachelor of Arts in Social Work (BASW), Master of Social Work (MSW), and Doctorate of Social Work (DSW) programs in an online format that fits the needs of busy professionals.
Duration: 4 years
Total credits: 120 credits
Certificates: Yes
Build on your passion for advancing positive change by preparing for careers in social work and social justice with UK's online BASW program. You can select an undergraduate Certificate in Diversity and Inclusivity Awareness or prepare for positions with the Kentucky Department of Community Based Services through the Public Child Welfare Certification (PCWCP) option.*
UK also offers a 4+1 MSW program, enabling eligible students to complete their MSW one year after finishing the BASW program.
Duration (Accelerated): 4 semesters
Total credits: 60 credits
Certificates: Yes
Empower yourself to create social change as a social work practitioner with UK's CSWE-accredited MSW program. You can become an expert in your chosen area of focus by following an Individualized Plan of Study or pursuing a certificate in Clinical Social Work Practice, School Social Work, Child Welfare Practice, Military Behavioral Health, and additional areas.
An accelerated format is available for students to take 15 credits per term.
Duration (Accelerated): 2 semesters
Total credits: 30 credits
Certificates: Yes
UK offers this Advanced Standing MSW option for students who earned a CSWE-accredited BSW or BASW within the last seven years. Tailor your education by selecting an Individualized Plan of Study, or pursue a certificate matching your professional interests, such as Clinical Social Work Practice, School Social Work, Child Welfare Practice, and Military Behavioral Health.
An accelerated format is available for students to take 15 credits per term.
Duration: 2 to 3 years
Total credits: 42 credits
Certificates: Yes
Pursue your DSW with UK to learn from esteemed scholar-practitioner faculty with expertise in addressing contemporary social work challenges. You can hone your knowledge by selecting a concentration in Administrative Leadership, Clinical Social Work, Military Behavioral Health, or Social Work Education. Graduate with the qualifications for moving into higher education or advancing into social work leadership roles.
Dedicated Support for Active Military and Veterans
Since 2009, the University of Kentucky has been recognized by Military Times as a Best for Vets school among public universities in the state. In addition to waiving the application fee for veterans, our military support teams can help you determine eligibility and use the variety of programs available to make your out-of-pocket costs as low as possible.
Request Info
Take Online Classes When and Where You Want
The UK College of Social Work offers high-quality coursework in a flexible format that fits your busy life. You can remain in your current community while earning your social work degree online, developing knowledge for fostering positive change locally. Like our students on campus, you'll learn from world-class faculty who provide the inspiration and guidance necessary to thrive as a social work student and practitioner.
Transform Social Work Throughout Society
Prepare to accelerate positive change in your community by enhancing your knowledge of social issues and learning to address barriers to equitable well-being for underserved populations. UK's social work programs instill an appreciation for how diversity characterizes and shapes the human experience, with online courses that empower you to: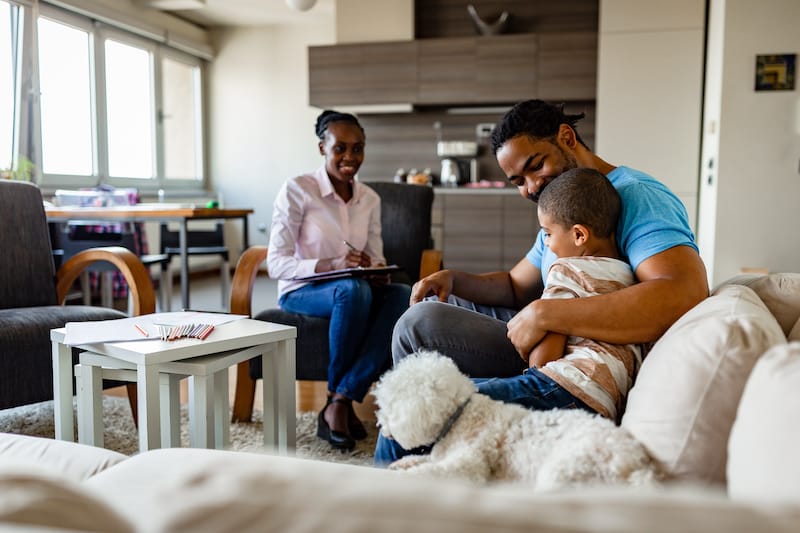 Impact Your Community with a Career in Social Work
Graduate ready for real-world practice at a university with licensure pass rates ranked #1 in Kentucky and among the highest in the nation. Our online social work programs impart adaptable, exceptional skills for career opportunities across an array of practice areas and settings. By starting or advancing your social work education online with UK, you can stand out in a profession expected to grow 7 percent from 2022 to 2032 — faster than the average for all occupations.4 Our recent graduates are working in hospitals, community-based non-profits, K-12 schools, universities, residential treatment programs, the criminal justice system, and more.
Rewarding Social Work Careers Include:
Child, Family, or School Social Worker
Clinical Social Worker
Executive Director
Health Care Social Worker
Mental Health and Substance Abuse Counselor
Psychiatric Social Worker
Social and Community Service Manager
Social Work Case Manager
Social Work Educator
Social Work Supervisor
Sources and Disclaimers:
"Best Schools for Social Work." U.S. News & World Report. Retrieved Nov. 1, 2023 from https://www.usnews.com/.
"2024 Rankings for University of Kentucky." College Factual. Retrieved Nov. 1, 2023 from https://www.collegefactual.com
"2021 Recipients: Higher Education Excellence in Diversity Award 2021." Insight Into Diversity. Retrieved Nov. 1, 2023, from https://www.insightintodiversity.com/.
"Social Workers." Occupational Outlook Handbook. U.S. Bureau of Labor Statistics. Sept. 16, 2023. Retrieved Nov. 1, 2023, from https://www.bls.gov/.
* The PCWCP certification is a collaboration between UK and the Kentucky Cabinet for Health and Family Services. It is designed to add highly trained social work graduates to the ranks of child protection workers throughout Kentucky. This is a competitive program that provides in-state tuition, a stipend, and a job upon graduation through a two-year employment commitment with the Cabinet following successful completion of the program.